Arsenal Captain Laurent Koscielny is the subject of a disciplinary battle with the club after refusing to travel with the 29 man squad for the USA tour.
The Frenchman is reportedly unhappy after he was only offered a cut-price deal with the Gunners to extend his deal for a further twelve months.
Koscielny has been offered a Three year deal with Bordeaux, and had asked Arsenal to let him move to the Ligue 1 on a free transfer, something which the Gunners refused.
After this, the relationship broke down between the Frenchman and Arsenal, with Koscielny now refusing to travel on the Arsenal tour.
It has been a problem for a long time, with the Gunners moving from captain to captain, using the importance of having a leader in the dressing room in a farcical sense.
From William Gallas sulking on the pitch to Robin van Persie claiming PFA Player of the Year after leading the goalscoring charts at the Emirates as captain, before quickly jumping ship to Manchester United, a number of  Arsenal skippers do have a  history of turning rogue against the club in the end.
Bearing in mind the manner in which Arsenal responded to the released statement on Koscielny as well the Frenchman's contract status and stature to the club, he is most likely subject to one of two scenarios.
Club statement on Laurent Koscielny

— Arsenal (@Arsenal) July 11, 2019
Koscienly is most likely on his way out of the club as it stands but whether or not he does leave, he will most certainly be stripped off the captain's armband for his show of misconduct.
The Frenchman has been a loyal and professional servant for the club for a good number of nine years but as the saying goes..No player is bigger than the club.
Last year, Emery selected Laurent Koscielny as his main captain, while Petr Cech, Aaron Ramsey, Mesut Ozil and Granit Xhaka were all named in his leadership group.
However, Cech has retired, Ramsey is now at Juventus and Ozil's role remains uncertain.
And now Koscielny has refused to travel on the club's pre-season tour, leaving Arsenal with a bigger leadership crisis than the Conservative party.
So, as Emery's thoughts turn to his second season in the Premier League, here's my take on a few candidates that could replace Koscielny as club captain for the 2019/20 season.
6.  Nacho Monreal
Nacho Monreal has been with Arsenal since 2013, winning three FA Cups and making 248 appearances for the club to date. If anyone knows what this club is all about and what it needs, it's him.
Like Sokratis, Monreal is more of a quiet figure than a domineering, bullish character. However, his experience of major tournaments with Spain and trophy wins with Arsenal seem to make him an ideal player to guide the club's younger stars.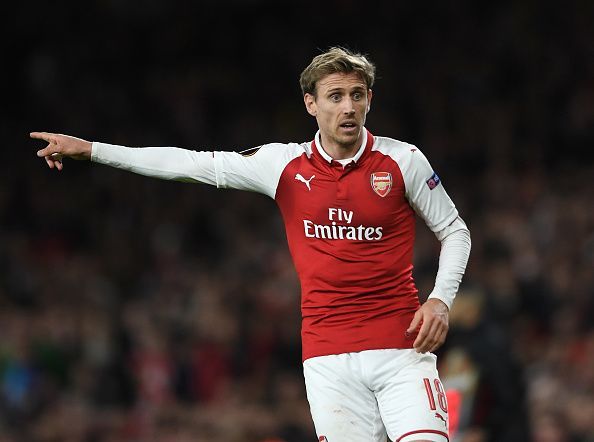 The main sticking point for Monreal is, at 33, just how much is he going to play? He still managed 31 starts across Premier League and Europa League games last season – making more interceptions (20) than any other Arsenal player in the latter tournament – but those totals will only decrease as his years advance.
Monreal is another player whose future is uncertain but if Koscielny does leave the Emirates, with Stephan Lichtsteiner already out of the door, Emery will not be able to afford to lose another defender of his experience. As we've seen in Premier League years gone by with the likes of John Terry and Jamie Carragher, the mere presence of an experienced defender in the dressing room can go a long way.
Click next page for next player.